Which Cedral Cladding is Best For Your Home. Lap or Click?
Which Cedral Cladding is Best For Your Home. Lap or Click?
12th May 2020
Cedral Cladding, click or lap, which is the best to choose?
Cedral is a fibre cement solution for house cladding and exterior wall facades. It requires low maintenance, fire retardant and comes in a range of colours and styles. Marley Cedral cladding has become the popular choice for uplifting the look of your home.
Cedral offer 2 styles of sidings including Lap and Click in either smooth or textured. Cedral lap cladding is designed to overlap itself to create a lapping effect and is generally chosen in a wood textured finish. Cedral click is fitted flat to the exterior wall of your home and works with a tongue and groove connection with the board above fitting in to the one below. Both offer the same benefits, but which one is for your home?
For a traditional properties, homeowners tend to use Cedral's lap cladding in a wood textured finish. This house cladding keeps the traditional style of the property whilst modernising the exterior walls and providing the home with the benefits of water proofing, insulation, and fire retardancy.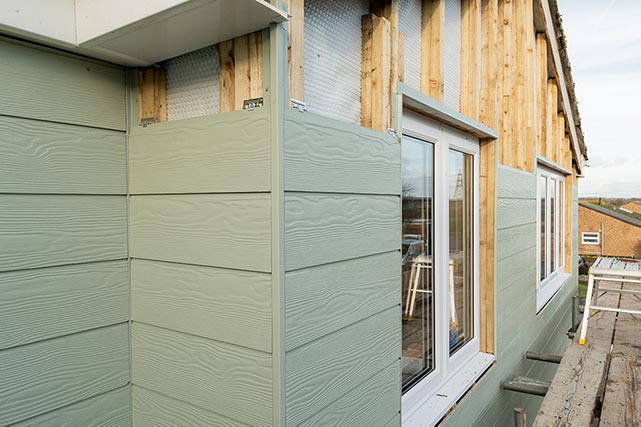 More modern homes tend to lean towards Cedral's click cladding. We often see modern homes using a combination of smooth and wood textured click cladding with a combination of colours. It adds a contemporary appearance to the property. Thanks to the "Click Clip System" it is possible to arrange the click cladding boards in different angles and orientations.
By no means is this a rule of thumb. We have visited many homes across Dorset and Hampshire, traditional and modern which use cladding in different ways, Cedral click cladding on traditional homes and Cedral lap cladding on modern homes.
Cedral lap is available in 21 solid colours and two woodstain finishes, whilst Cedral Click is supplied in a range of 10 factory-applied colours. In addition, the Cedral range has a selection of complementary trims to achieve any required look.
Is there a colour you want but it is not on offer? It is possible to paint and colour Cedral cladding boards to match any style you are looking to achieve with your home. This means later down the line you change the look of your home without having to replace the boards.
Want and idea what your house could look like cladded? We offer an Online Quote system that just requires you enter a few simple details and upload an image of your home and our surveyor will generate you a quote. Get an Online Quote and House Render For Free! Start to visualise your own project.