Finlock Concrete Gutter Removal Specialists
We're your leading choice for concrete gutter replacement across Dorset and Hampshire
Concrete Gutters were featured on properties between 1950-1970 and were designed as a cost-effective, all-in-one solution for gutters and fascias. Concrete gutters were a great option for their robustness, however once they begin to sag and crack they become non-repairable causing long-term problems from damp and water penetration. Quick fixes are available, this is only a short-term solution and over time will get progressively worse. This makes the best solution to replace over repair.
Our team of experts can remove and replace your old concrete gutters with Metal or uPVC Gutters, Fascias and Soffits which are backed by our 20-year guarantee. There are many properties across Dorset & Hampshire still featuring Finlock Concrete Gutters, is yours one of them?
Replace Concrete Guttering with Metal and uPVC Gutters
All of our Concrete Gutter replacements feature eaves protection, ventilation, and gutter guards as standard.
Upgrade to Metal or uPVC gutters
No obligation quote for concrete gutter replacement
Long lasting uPVC Fascias, Soffits and Gutters
20 Year Guarantee
Fully Insured
Get a Tradesman not a Salesman Contact our team today to organise your site survey! Call 01202 470044.
Reliability & timekeeping
Free Online Quote
Are you looking to replace your dated concrete gutters? Get a free online quote today. Simply go to our Online Quoter, add your details and a photo of your home and our inhouse surveyor will respond with a competitive, no obligation quote!
Online Quote For Concrete Gutter Removal
For a gutter team that guarantees quality, honest pricing and reliability why look elsewhere? Contact us today and we'll be in touch shortly to book your FREE quote.
Black Downpipe
Black FloPlast
Brown Downpipe
Brown FloPlast
Caramel Downpipe
Caramel FloPlast
Cast Iron Effect FloPlast
Grey Downpipe
Grey FloPlast
Sand Downpipe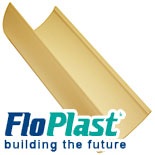 Sand FloPlast
White FloPlast
How Do You Remove Old Concrete Gutters?
Safety rigging in the form of towers and scaffolding is erected. This is fundamental to making safe the removal of the Finlock Concrete gutters, which in turn provides a stable platform for our team's health and safety.
Step 2
Preparing the Roof
Step 2
Our specialist Concrete Gutter team then remove the first 2 rows of tiles to reveal the old roof felt. This is cut free to be repalced later on with eaves protection boards.
Step 3
Removal of the Concrete Gutter
Step 3
Our specialists then score and cut the Concrete Gutter free of the home. Leaving a smooth surface on the Finlock.
Step 4
Insulation & Support
Step 4
A construction grade timber face plate is secured to the finlock concrete surface. YBF foil or Celotex insulator is secured to the timber. This aids with bridging the cold gap.
Step 5
Your homes new Fascias and Soffits are then installed. These are made of uPVC and come in a range of different colours. The eaves protection boards are installed and the tiles reseated.
Step 6
New gutter brackets are fitted and deep flow gutters and downpipes installed.
Recognition by Checkatrade demonstrates workmanship and products of the highest standard, all fully vetted according to government legislation and current laws.
Only Freefoam registered installers are eligible to offer the industry leading 50 year guarantee - adding peace of mind to your investment.
As a Cedral Select recognised installer, we deliver the highest standards of workmanship, outstanding quality and expert advice and guidance as standard.
Recognition by Checkatrade demonstrates workmanship and products of the highest standard, all fully vetted according to government legislation and current laws.
As a Registered FairTrades home improvements specialist we are proud of the service and expertise we offer to homeowners on a daily basis.
We pride ourselves on the quality of our materials and use only BBA certified products for each and every project we undertake.
Licensed to dispose of waste.
NAME The Gutter Company, REGISTRATION No. CBDU106781 EXPIRY 02/05/2022
We are Certass certified, which means not only do all of our installations meet correct building regulations, but also are compliant with the highest industry standards.
TrustMark endorsed companies have their work checked for quality and to ensure technical competence and trading practices are met.