cost to replace gutters and fascia
Your Number One Choice for Fascia Refurbishment
Timber fascias deteriorate naturally over time, due to their consistent exposure to the sun's UV rays or rotting due to excessive moisture from rain, or even gutter leakages.
It is important to repair, paint or replace your timber fascias regularly in order to ensure they serve their purpose effectively and efficiently. Our team of fascia refurbishment professionals will install your replacement fascias in any style of material, at the most affordable price around.
When done correctly, our fascia refurbishments will qualify for our 20yr guarantee! If you require our fascia refurbishment or replacement services, contact us on 01202 470044.
How much do new fascias, soffits and gutters cost?
Are you in need of new fascias, soffits and gutters for your home? We offer competitive pricing for Detached houses, Semi-Detached houses and Terrace homes across Dorset & Hampshire. Soffit and fascia cost from:
Terrace House From £990
Semi-Detached House From £1360
Detached House From £2200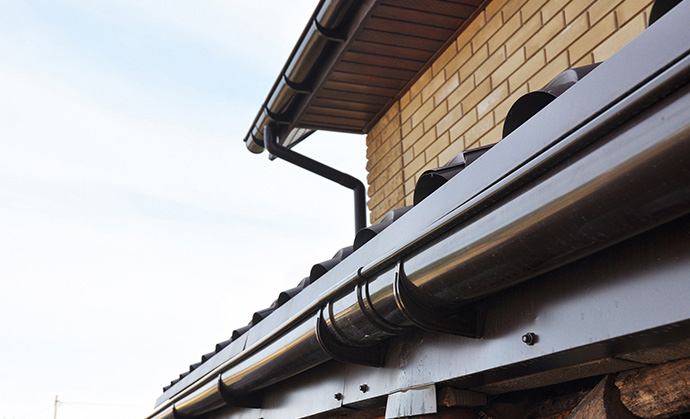 Excellent 20yr warranty
Once installed, we will provide a 20yr warranty based on the rainwater goods being maintained. Our guarantee ensures that you get the best from your gutters and fascias during this time, and we will return every 12 months after the installation at a time booked in with you to inspect the rainwater goods and give you a detailed report of any issues we find as part of our aftercare.
Generally, a quick clean out is required to keep gutters flowing efficiently, which if required will be quoted for and can be done while we are on site with our Sky VAC.
All quotes for a refurbishment fascia, soffit and gutter installation are subject to a site inspection by our surveyor who has 20+ years in the industry and will leave a report of works to be carried out at time of installation and a free written quote.
Affordable Fascia Refurbishment Specialists
Our fascia refurbishment team offer expertise in utilising the latest technology to provide the very highest quality finished to your replacement fascias. Our specialists have the skills to fit the new uPVC 10mm fascia boards, as well as eaves guards/felt replacement boards to ensure that your home remains moisture free and remains insulated from harsh weather conditions.
Customer satisfaction is our primary concern when it comes to fascia replacements across Dorset and Hampshire. Our fascia replacement professionals work alongside you to ensure a speedy installation and a high quality finish every time.
For outstanding service and high quality fascia replacements, call our team today for a FREE quote on 01425 460669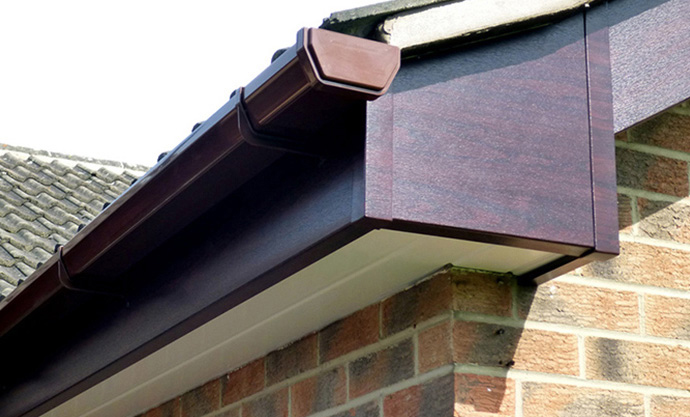 Why Choose Us?
The Gutter and Cladding Company are the number one fascia replacement specialists across Dorset and Hampshire, with over 20 years in the industry.
Our fascia replacement team work hard to ensure that each and every customer receives the highest possible service paired with affordable prices. Our reputation with regards to customer service is second to none, which is why we remain the number one fascia replacement specialists in Dorset and Hampshire.
We offer a Home Pro Insurance backed guarantee for our workmanship and materials, we are registered Fairtrades and also have the Trustmark of Government endorsed standards. When our fascia replacement experts install your new products, you can rest assured that you are receiving the highest quality service around.
To find out more about our fascia refurbishment experts, contact our team today on 01202 470044
Reliability & timekeeping
Choose any of these fantastic fascia colours!
---
White
Black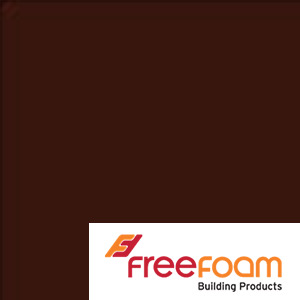 Leather Brown
Pale Gold
Sable
Storm Grey
Dark Grey
Anthracite Grey
Woodgrain Mahogany
Woodgrain Rosewood
Woodgrain Light Oak
Woodgrain Irish Oak
Woodgrain Black Ash
Woodgrain Anthracite Grey
Woodgrain Chartwell Green